If you've ever wondered how my studio is set up for oil painting and filming of my Online Art School classes, you're in luck! Because here, I'm going to show you just how I've done it. I've also created a video that shows you around my studio and the equipment that I use.
First things first, if you're new to oil painting and wondering how to set up your own studio, take a look at the image below. This depicts how I set up my studio, with all the equipment that I need in close proximity to me. If you're left handed, you'll want to put your palette, brushes and tablet etc on your left so that you can easily reach them. It's as easy as that to set up your studio for oil painting, just make sure that you have a comfortable chair too.
And here's me in my studio!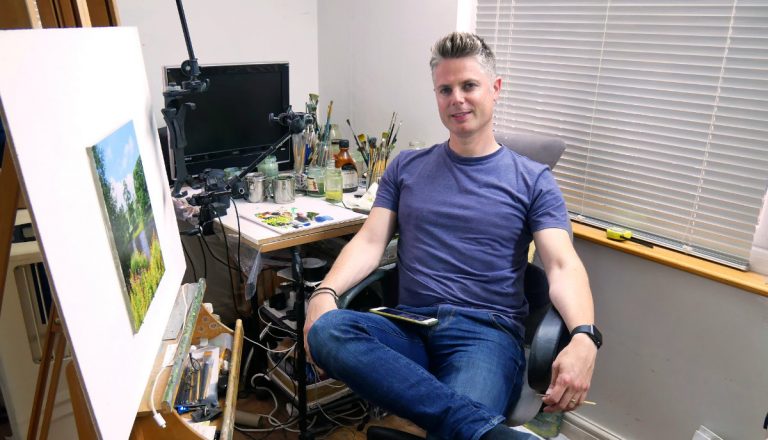 In the video below, I'll take you through the recording equipment that I use for filming my Online Art courses, together with the easel and panel that I use, the straight edge I use for creating horizon lines and my trusty resting stick that I receive so many questions about. 
If you'd like to know what painting equipment I can't live without, read My 5 Oil Painting Equipment Essentials. 
For more oil painting tips and advice, sign up to my monthly newsletter. You'll also be in with a chance of winning a signed print or set of my paintbrushes every month!